Description
     – Better quality and faster cuts.
     – Strong and durable body structure.
     – Automatic space adjustment.
     – High precision and easy operation.
     – Low maintenance costs.
     – High security protection.
     – World-recognized components.
     – Continuously regenerates the piece per piece with low cutting costs.
CNC Angle Adjustable Guillotine Shear
With its monoblock welded steel body, precise back gauge, high quality blade and user-friendly CNC control system, Dener CNC angle adjustment scissors is a series of proven quality and reliability in sheet metal processing industry.
Dener CNC offers guillotine shears from 3 meters to 6 meters in cutting length and 6 mm to 20 mm in cutting thickness as standard. Other than this, the thickness and lengths are produced according to the special demands from the customers.
Dener CNC Hydraulic Guillotine Shears can be used to adjust the cutting angle and cut gap automatically with the sheet metal thickness values ​​entered through the control unit, and the difficulty of adjusting the angle and knife gap as maneu according to different sheet types ends. In this way, quality and precise cutting is to be achieved. With the cutting program memory, various sizes of sheet metal plates are cut rapidly in a single program and productivity is increasing.
With the new generation CNC control unit, the operator can easily start production by making fast and simple cutting program. When the thickness of the sheet to be cut by ESA 530 CNC unit, cut length, sheet type and cut width is entered, the CNC unit automatically calculates the required angle, blade gap and back gauge distance, and the operator simply leaves the plate and cuts the cutting process. According to the length of the sheet to be cut, the upper knife goes down and the short parts are prevented from falling down the full length of the machine and thus more efficient, economical and fast cutting is achieved. The blade gap and cutting angle which are automatically adjusted according to the type and thickness of the sheet to be cut allows the best cutting quality to be obtained in the most economical way.
Faster and better cuts with excellent hardware

ESA S 530 Control Unit
• 7 program LCD TFT bright screen • Back gauge control
• Blade gap control • Angle adjustment control
• Cut length adjustment • Programmable up to 100 steps.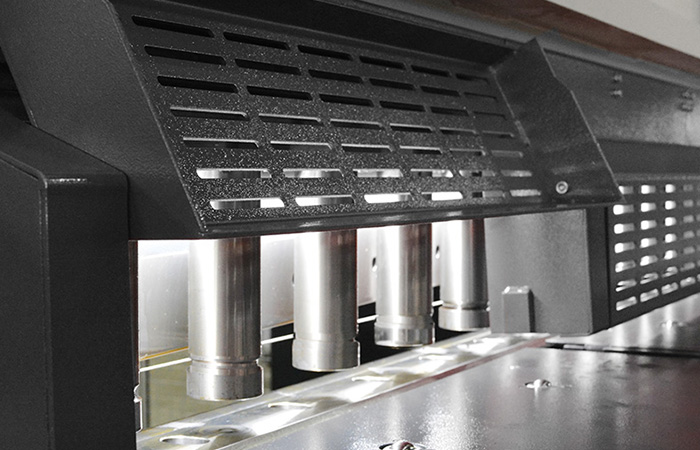 Front Finger Protection Plate
Openable 1000mm long front finger guard cage.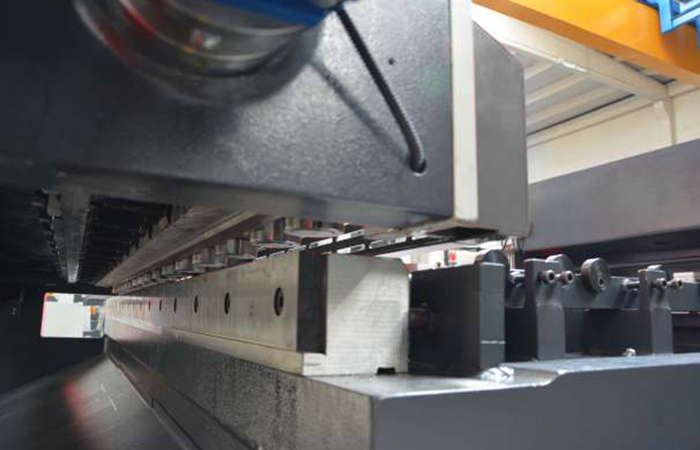 Powerful Monoblock Body.
Powerful monobloc body with excellent cutting quality from 6 mm to 20 mm.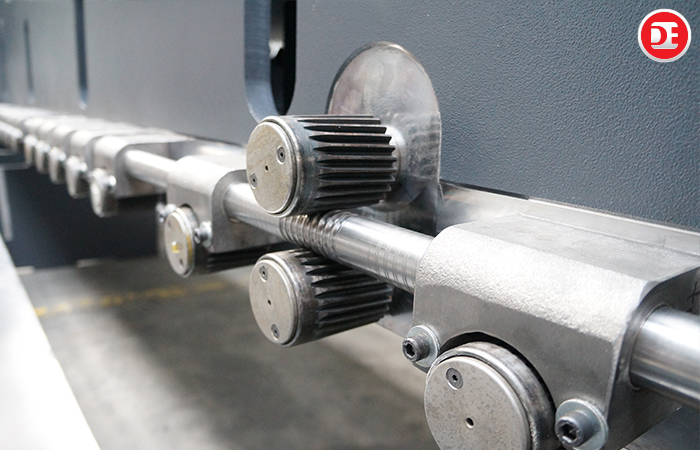 Sentil Setting System
Thanks to the centil setting system, precise, smooth and quality cuts are always achieved.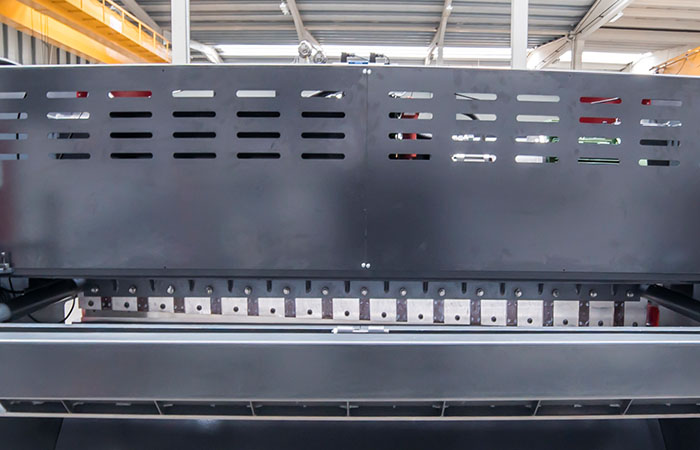 Backrest
± 0,1mm Precision motorized back gauge.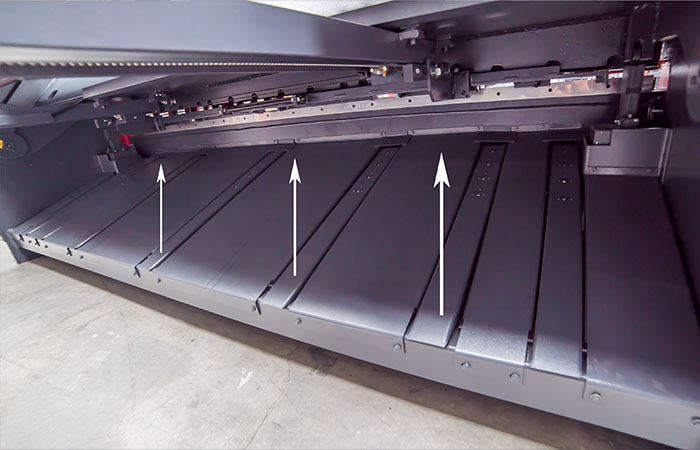 Pneumatic Sheet Support System (Optional)
It prevents the sagging and scratching of wide and thin sheets and provides more precise cuts.
• ESA S 530 CNC Control Unit
• Automatic Sentil Setting System Supporting All Size Upper Knife
• Hydraulic Pressure Boots
• Front sheet metal working table with ball
• T Channel Sheet Support Arms.
• Motorized Backrest.
• Emergency Stop Button Footswitch.
• Front Finger Protection Plate
• Laser light curtain guard
• Shear wire of cutting line.
• CE Certified Safety System
• Manual Central Lubrication System
• Oil Cooling System
• Pneumatic Sheet Support System
• Laser Cutting Line